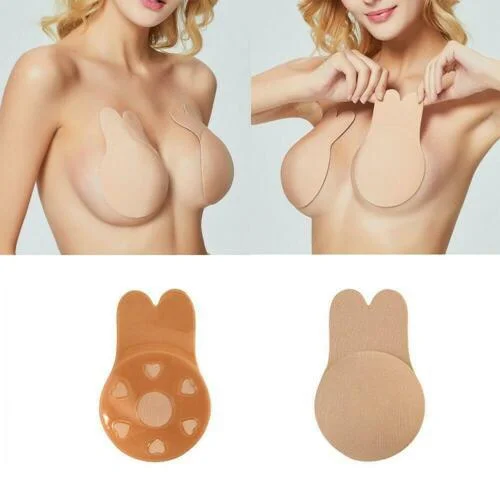 Pattern: Solid
Strap Type: Strapless
Bra Style: NuBra, Seamless Bra, Wireless Bra
Material: Acrylic
Closure Type: Front Closure
Cup: Full Cup
✔ SHINE IN BEAUTIFUL DRESSES - Specially designed for an open back, cut out dresses, t-shirts, wedding gowns, sports bras, and swimsuits. Look elegant and enjoy the attention you get with wearing exotic and unique open back, deep v-neck/plunge dresses with instant breast lifts push up effect!
✔ FEEL COMFORTABLE BY GOING BRALESS – These pasties made with hypoallergenic silicone material will feel soft on your sensitive skin and stay firmly in place all day invisible providing you the secretive support and lift you need for the best look in your dress!
✔ REUSABLE AND WASHABLE– These water-resistant medical-grade silicone pasties can be reused dozens of times with proper care. Just wash with lukewarm water and mild soap after each use and let them air dry before storing with the film cover on.
✔ INSTANT BREAST LIFTS –  Adhesive breast lift tape with nude silicone Nippleless Covers. It's the newest design that helps keep your boobs full and round, ensure your nipples don't show and keep your breasts lifted and perky while going bra-less.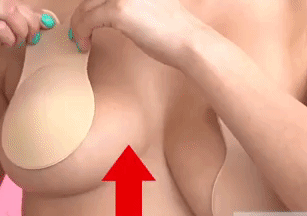 ✔ THIN, SOFT&MEDICAL GRADE MATERIAL –  Made of 100% eco-friendly and medical grade silicone, Strapless Lift Up Invisible Bra Tape is comfortable and safe to use.The thin design makes it suit for backless/strapless dresses, t-shirts, wedding gowns, sports bras, & swimsuits. Give you a natural, more youthful appearance.
✔ COMFORTABLE AND DISCREET –  Thin and a natural skin look,total nipple coverage design,so nobody will notice you're wearing them.Large diameter (4"/10cm) so they stay in place with no ridges or lumps which are common to smaller silicone Nippleless Covers.Soft and flexible to form to curves of your breast.
No matter the size of your boobs, every lady always hopes to have better curves and shape. Strapless Lift Up Invisible Bra Tape is probably the best solution to all these issues!
These adhesive tapes with professional fitting offer ultimate support to lift up your breasts and to create natural cleavage.  
 Material: Nylon fabric