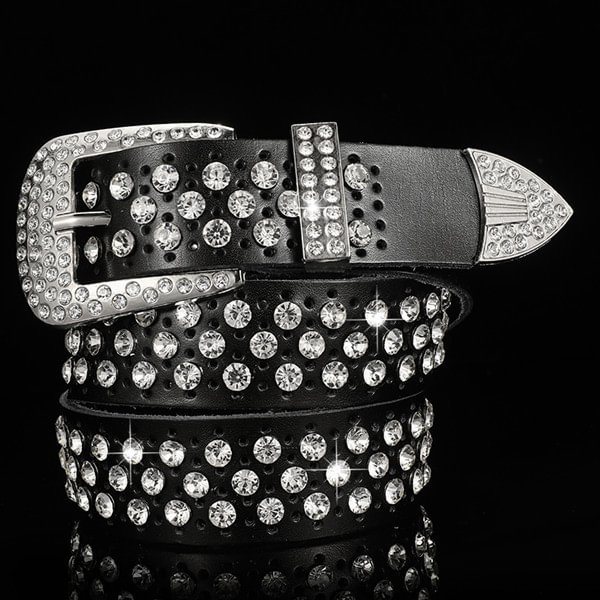 BB Belt Cowgirl Rhinestone Belt, Fashion Rhinestone Belt For Women For Jeans, Ladies Bling Rhinestone Belt For Dress


Product Parameters
Gender: Female
Electrified: Electrified(N)
Sharp Weapon: Sharp Weapon(N)
Tie closure
Fine Workmanship👈This rhinestone belt is made of high-quality artificial leather, bling rhinestones and strong rivets, with pearl edging, exquisite and beautiful. Durable and wear-resistant, not easy to be damaged and the large rhinestones are sticky repeatedly, not easy to fall off. The fashion western cowgirl belt can hold your pants up very well, suitable for your most outfits. Absolute value for money.
Eye-catching Bling👈This western cowgirl leather belt is full of shiny rhinestones, which are very dazzling and eye-catching. We have also specially lengthened the bedding area of rhinestones, so that when you tie the belt, will not reveal the position no rhinestones, which improves the delicateness of the whole belt. Wearing it can add more fashion and charm to you.
Removable Buckle👈There are two rows of concealed buckles inside this rhinestones belt buckle. You can easily open it, then remove the buckle and customize it with your like. This unique design increases the flexibility and variety of this rhinestones belt. With it, you are the focus of the crowd and it will make you more confident and looks more beautiful and sexy.
Can be used on many occasions: This beautiful diamond belt can be used on jeans and skirts. It is suitable for parties, picnics, and villages. It can be matched with different types of clothes which let you spend a share of money and get many uses. It is the ideal companion to reflect the curve of your waist.