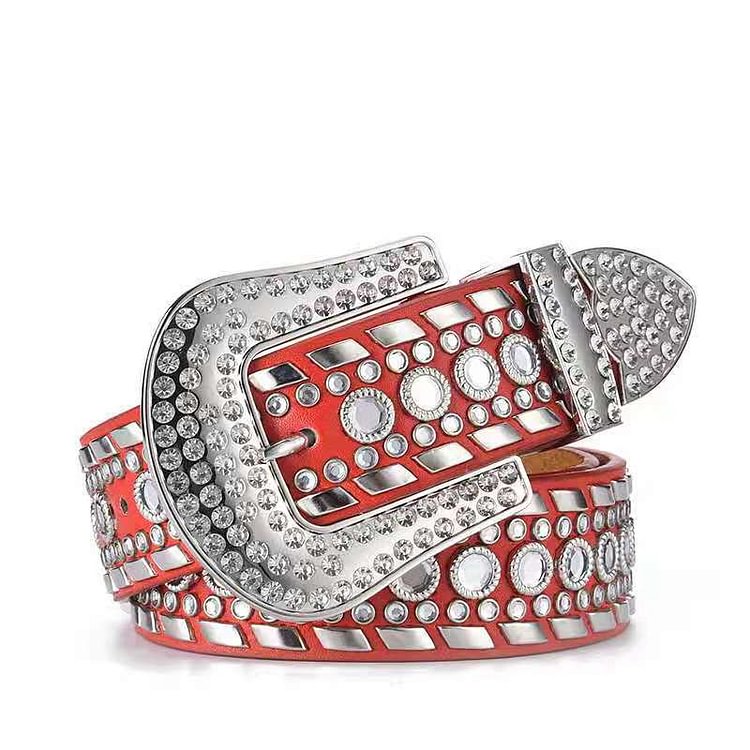 Gender: Female
Electrified: Electrified(N)
Sharp Weapon: Sharp Weapon(N)
Here is a belt that is sure to get some attention! These belts are available in black, brown, and white and made with vegan leather covered in glittering rhinestones and silver, which are going to help you sparkle and shine. This statement accessory is the perfect way to take an everyday look from 0 to 100 in a matter of seconds.
Bring the Bling
Our rhinestone belts are definitely a show-stopper. Whether you are going for a flashy Vegas vibe or country western look, it's completely up to you. This belt has some serious sparkle and will give any outfit that 'bling factor'.

These belts are the perfect width to fit through the belt loops on your favorite pair of jeans and are constructed to be very durable. The man-made leather will not stretch or break, so this is an accessory that will last you for years.


Unlimited Style
Unexpected outfit pairings can really bring out some seriously fierce fashion looks. This is a belt that tells the world you have a daring and edgy sense of style and you're not afraid to get noticed! For every woman who loves to accessorize, this bold and unique statement piece will add a real "wow-factor" to any ensemble. Be brave and bold and have fun playing with different ways to wear this belt. The possibilities are endless.


Extra Features and Sizing Information
Find the perfect fit for you...

We suggest you measure over your clothing to get the most accurate measurement for your rhinestone belt size. The size chart above gives the measurement of the belt on its smallest and largest setting.

Remember to measure around where you plan to wear the belt. For example, if you plan to wear it with high waisted jeans you might want to measure around the smallest part of your waist, but if you are going to wear the belt with low-rise hip huggers, you may want to measure around your hips (below the navel).
These western rhinestone belts have the versatility you crave. Each belt features an easy snap closure that allows you to switch out the buckle, allowing you to make it even more "you".

To customize your belt, you can tone it down by adding a classic silver buckle, or add even more dazzle with your favorite over-the-top bling belt
buckle.
Each belt is crafted with an attention to detail. The rhinestones and studs are securely attached to the durable man-made leather, so you can be sure that this belt will do the job for every occasion.

So, are you ready to shine yet?