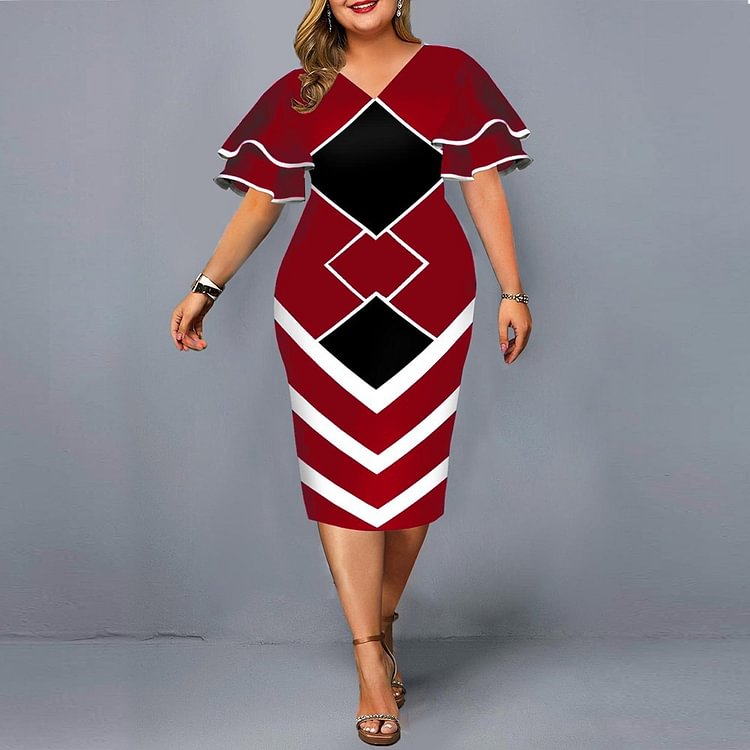 SpecialLogistics: SpecialLogistics(NO)
Electrified: Electrified(N)
Material: 65% cotton, 35% polyester. The geometric print bouquet waist dress is made of lightweight, skin-friendly, high-quality elastic fabric, and the skirt will not wrinkle.
Design: Geometric print bouquet waist wrap dress is cut exquisitely to fit your curve perfectly. Elegant women's dresses, fashionable skirts are very beautiful, accentuate your figure. This women's fitted lotus sleeve summer dress has an elegant and feminine look!
Retro and elegant dress: This is a retro geometric line pattern design. Retro women's v-neck, perfect match with hats, high heels/wedge heels/flip-flops, beautiful earrings and necklaces, jewelry, make you more feminine.
 Fits like a glove: the length is knee length, it is the perfect length to wear out, very suitable for curvy girls. Good breast coverage without showing too much cleavage. The invisible zipper on the back opens and closes to better protect your skin.
Suitable for any occasion: Elegant ladies' retro printed dress styles, which can be dressed up or dressed up according to the occasion. Such as business office, leisure, party, church, beach wedding, wedding guests, dance party, cocktail, vacation, honeymoon, cruise, birthday, dinner, summer party, homecoming, choir performance, play, daily life, outing, gifts For mothers, Mother's Day gifts, Mother's Day dresses or special occasions.