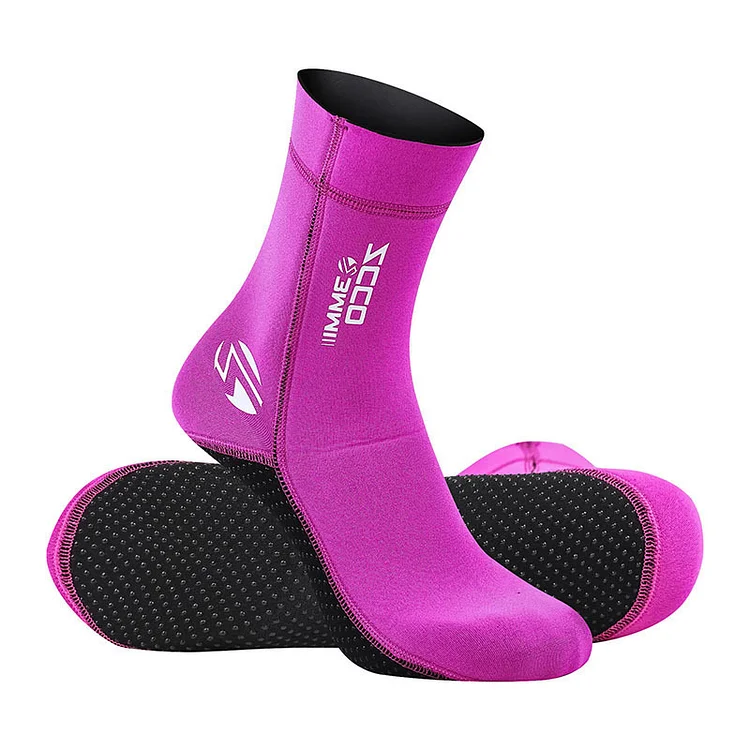 STAY COOL in HOT SAND and WARM in COLD SAND. Stand and play all day on the hot sand while you watch everyone else dance around on hot feet. Our beach socks have Neoprene soles to provide protection from hot/cold coarse sand, rocks, shells and even hot pavement for you pool/water park goers.  Our lycra neoprene sand volleyball socks will protect you from all the elements so you can still have fun the sun, also fits well under any brace.
FITS LIKE A GLOVE.  Or a sock for that matter. Other beach socks fall down, let sand in, rip, don't fit or are just ugly. We uses lycra and a fastener strap to make sure you have a tight comfortable fit all day. Play all day at tournaments? Sweet, these will stay up, keep you protected, keep out sand, fit you and with a reinforced toe, never rip. Did you also want to make more friends? Our awesome prints are great conversation starters.
FEET IN SAND OUT.   You need your mind on your game not on your socks. Our lycraspandex beach sock fabric fits your feet and with the fastener top they will never fall down or let in sand. Beach Socks Men and Beach Socks Womens! Secure volleyball Beach socks for all. If it doesn't fit just send it back.
SAVE THE PLANET.  We are continuing to improve our packaging and materials to be completely sustainable and eco-friendly.  We love the beach and want to make sure it's still there for future generations.  Together we can help combat global warming and save our beaches.