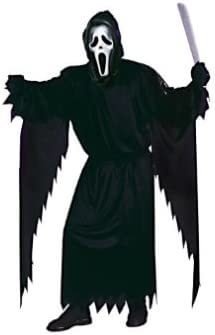 Size Chart
Items Included
Product Highlights
100% black polyester robe has an attached hood
Drape sleeves w/ shredding on the bottom
Ghost mask has mesh netting over eye openings



Product Description
What's Your Favorite Scary Movie?
Candy corn and sweet-faced jack-o-lanterns are fun, but what Halloween is really all about is a good scare! You're the type to test your bravery against the creepiest films you can find, and you're pretty positive that you'd be able to be the Last One Standing once the credits roll. You definitely know better than to answer a repeated wrong number, leave your doors unlocked, stand near a window, go in a dark closet, or *shudders* walk home alone in the dark. This Halloween, put your knowledge to use in becoming one of the creepiest slasher villains ever!
Product Details
This exclusive, officially licensed Scream Kid's Scary Costume will make your friends shriek! The black polyester robe ends at your ankles and has a jagged hemline. The long sleeves are sewn with long drape material to make you look especially sinister when you reach out for your victim. A black sash ties around the waist. The attached hood pulls up to cover your head so that no one can identify you. The included ghost mask is made of molded plastic and features Ghost Face's iconic skull-like head and open mouth. Mesh netting over the eye openings allows you to see where you're going (always important whether you're breaking into a house or collecting Halloween candy.
Watch Out, Woodsboro!
Ghost Face walks again - but this time he's only after sugary goodness. Make sure that you give him plenty of treats, though. You definitely don't want to see this guy do a trick!