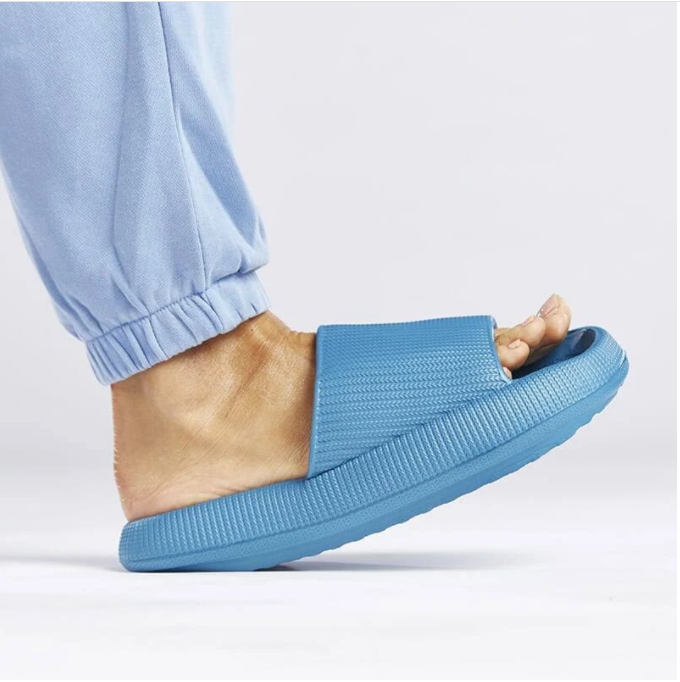 my pillow slippers,cozi slides
Make the world feel softer than a marshmallow! Slide into heavenly comfort with the world's softest massage sandals.
Slide, Strap Or Flops: Get the original Cloud Pillow Slide, or choose between Flip-Flop Style or Two-Strap Style.
Mens & Womens: Choose your colour and head to checkout - our sizes accommodate men's & women's regular sizes.
Extra Thick & Soft: 1.75" thick premium moulded EVA platform sole - feels like walking on pillows. No chafing, no blisters.
Instant Pain Relief: Extra heel support with acupuncture-style foot massage texture and cushioning.
Double Anti-Slip: Anatomical footbed with raised diamond texture, extra grip outsole with wave-shaped texture. No more sliding.
Light & Waterproof: Weighs less than your smartphone, totally waterproof and super easy to clean.
100% Versatile: Lounging at home, in the shower, by the pool or just walking outside. Fully breathable and anti-odour.
Foot pain just melts away. No stress.
The incredible softness reduces the pressure of walking - the heel is angled at 15° higher than the toe, easing the pressure and distributing the weight of each step. You'll feel instant relief for your sore feet, ankles, knees, and hips.