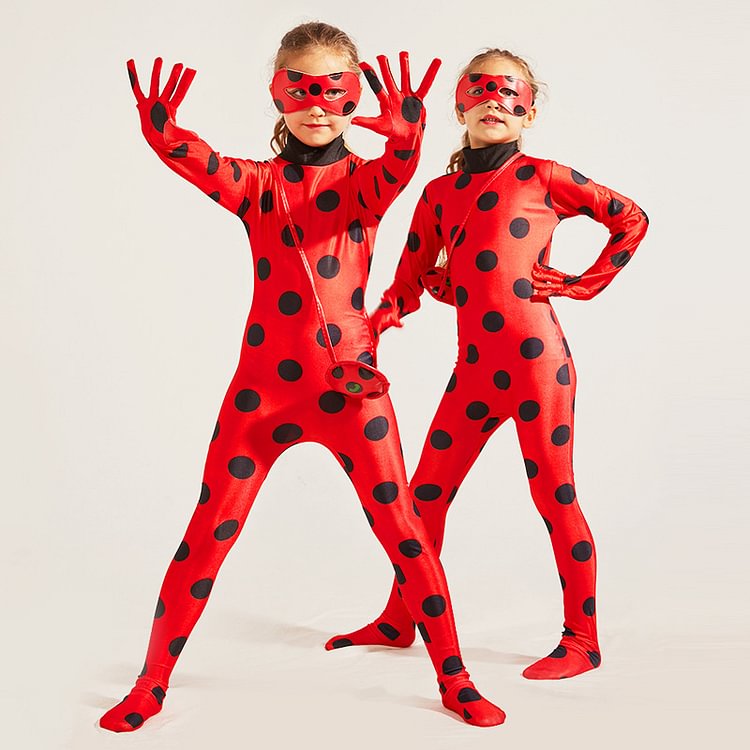 Product Information
Items Included
Jumpsuit
Eye Mask
Pair of Gloves
Pair of Hair Bands
Features
83% polyester, 17% spandex stretch knit fabric
Jumpsuit has hook and loop fastener at center back
Wrist-length gloves slide on
Foam mask has an elastic band around back of head
Pair of elastic hair bands have red ribbons sewn to one side
Isn't She Miraculous?
Well, sure, you think your little bug is certainly miraculous. You have watched her grow up from an adventurous and curious toddler into a super-smart, agile, and fearless do-gooder. You have seen her do amazing, selfless, and brave things. And you think your kiddo is just the bee's knees! But how can the world know what a truly marvelous child you have?
One easy way is to get this Girl's Miraculous Ladybug Costume and let the outfit do all the talking. Not only will your kid flip for a chance to turn into her favorite superhero, but the look really speaks for itself—this little lady is miraculous! In it, she can take on all kinds of Halloween adventures, stalk the neighborhood for akumas, villains, or other baddies, or even Hawk Moth himself, and collect all the best candy trick-or-treating! And since your child doesn't have access to the real magical Miraculous jewels, those nuggets of chocolate and nougat will have to do the trick.
Product Details
Most people think in order to turn into Miraculous Ladybug, a girl needs to have access to the Ladybug Miraculous—but that's only because they don't know about this cool costume. An exact replica of Marinette's superhero garb, this look hugs your kiddo in a spotted ladybug bodysuit, a black collar, matching gloves, and the red face mask.  
Noir Or Never
Whether Cat Noir suits up to join Miraculous Ladybug this Halloween is entirely up to them — just make sure they don't reveal their real identities while trick or treating!