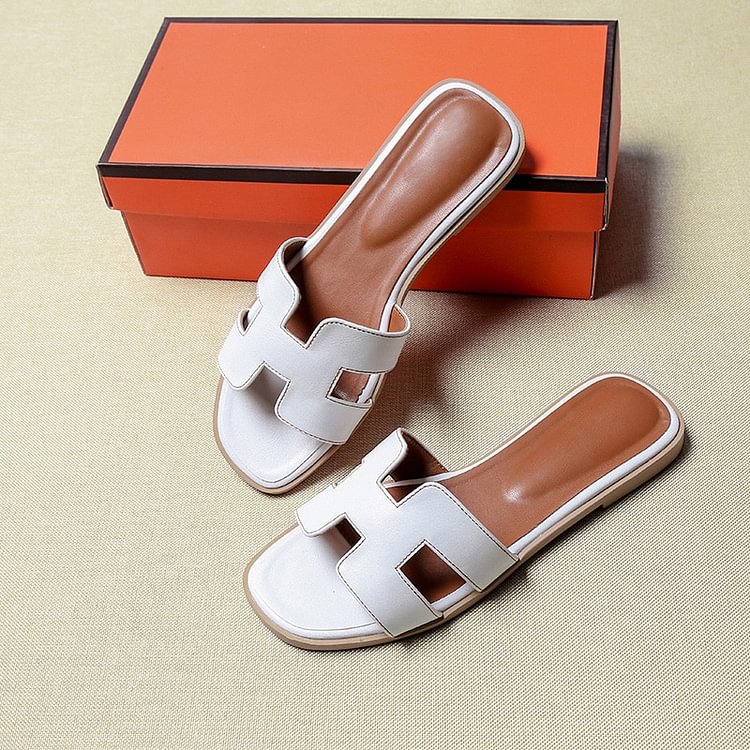 Size Chart
Tag Size
US Size
EU Size
UK Size
FOOT  LENGTH
FOOT  Width
CM
INCH
CM
INCH
36
US 5
EU 36
UK 2.5
23
9.02 
8.51
3.35
37
US 6
EU 37
UK 3.5
23.5
9.25 
8.81
3.47
38
US 7
EU 38
UK 4.5
24
9.45 
8.99
3.54
39
US 8
EU 39
UK 5.5
24.5
9.65 
9.19
3.62
40
US 9
EU 40
UK 6.5
25
9.84 
9.37
3.69
41
US 10
EU 41
UK 7.5
25.5
10.04 
9.55
3.76
42
US 11
EU 42
UK 8.5
26
10.24 
9.75
3.84
43
US 12
EU 43
UK 9.5
26.5
10.43 
9.93
3.91
1.Please select a suitable size depending on your foot length;
2.Once you know your foot length, consult the Size Chart to determine which  size you should purchase;
3. Size  of  the shoes are smaller than ordinary, we  suggest buying one more size larger.

Here's To Your Comfort

H sandals have become popular in the past year. we see the H sandals in feet luxury influencers' on all the time.
If you're in love with the look of the Hermès sandals but don't want to spend a big fortune on sandals, we have some good news for you. we haves a an affordable version most-luxurious item you can buy: sandals-similar designer-inspired H sandals